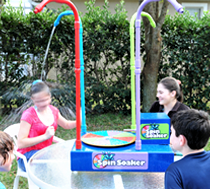 Spin Soaker Water Game
This spin soaker is a great option for a hot summer party. The players sit around the table and take turns spinning the wheel, when the wheel stops on one of the colors, whoever is seating on that color press the handle and activate the game. Best of all... nobody knows who's getting soaked, as the game chooses randomly.
A great water game option for players of all ages!