Obstacle course rentals in Nashville.
  Inflatable Obstacle Courses

Our inflatable obstacle course rentals are designed to please even the most intrepid adrenaline lover.
Full of adventure and challenging activities, an obstacle course rental is a great inflatable rental choice and a great option to keep your guests entertained. Boost your obstacle course rental to the next level by adding an inflatable slide rental, interactive game rental, and concession machine rentals to your event.
Our prices DO NOT include tax and delivery. Price may vary during Holiday weekends
If your Inflatable Obstacle Course Rental is set up indoors, in concrete, or asphalt, or requires sandbags to secure the inflatable obstacle course, there will be an additional fee to your rental.
Nashville obstacle course rentals are very popular, let us tell you why!
Obstacle course rentals are a great way to have kids and guests at your party or event to do exercises and have fun at the same time.
Every day it's harder and harder to have the kids exercise or even go outdoors to play. An obstacle course rental will give them the little push that they need because will promote a friendly challenge to them.
When it comes to obstacle course rentals in Nashville, Jumping Hearts Party Rentals has a great inventory of the newest and most challenging obstacle courses for rent. We keep updating our obstacle course rentals inventory often to keep bringing only the best quality products and services to our costumers.
See our 46' Extreme X Obstacle Course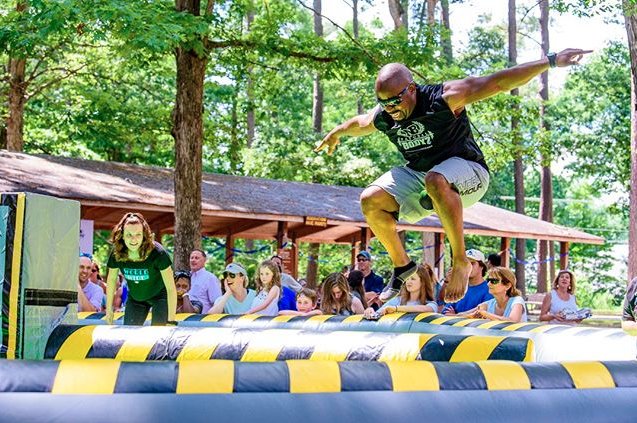 If I reserve an obstacle course rental, how big of a space do I need to set it up? Do you think that adding an inflatable game rental is a good idea?
In our Nashville obstacle course rentals inventory we have several sizes, from 21 feet long to 151 feet long and the space required depends of the obstacle course rental that you booked. But please don't worry, every single one obstacle course in our inventory has the dimensions required for your setup in the description page.
There is no way you can go wrong with an interactive game and an obstacle course rental on the same party or event. But it is important that you choose the inflatable games according to the age of your guests.
Interactive Game rentals Nashville
One of the best options that you may have when it becomes to inflatable rentals are obstacle course rentals because they have the ability to entertain lots and lots of guests, but also entertain guests of all ages. From kids to adults, everybody will enjoy your obstacle course rental.
When you rent an obstacle course, you are also renting a "high traffic unit". Meaning that and obstacle course can handle a high flow of people running through it in short periods of time, making an obstacle course the ideal inflatable for big events, perfect inflatables for fall festivals and simply one of the best inflatables for school field days.
We are located in the heart of La Vergne, in an strategic location for better serving every city in between Nashville, TN. and Murfreesboro, TN.
Our phone number and address are:
(615) 854 1020
152 Mason Cir La Vergne, TN 37086
Click here for driving directions
.
What are your hours of operation?
We are open the 7 days of the week and our hours of operation are as follow:

Sunday 12:00 pm-6:00 pm
Monday 8:00 pm-6:00 pm
Tuesday 8:00 pm-6:00 pm
Wednesday 8:00 pm-6:00 pm
Thursday 8:00 pm-6:00 pm
Friday 8:00 pm-6:00 pm
Saturday 8:00 pm-6:00 pm
Jumping Hearts Party Rentals
152 Mason Cir La Vergne, TN 37086
615 854 1020
obstacle course rentals, obstacle course for rent, obstacle course for a adults, obstacle courses for adults, Nashville obstacle course rentals, Murfreesboro obstacle course rentals, obstacle course rentals Nashville, obstacle course rentals Murfreesboro, party ideas, obstacle course for rent Nashville, obstacle course for rent Murfreesboro, obstacle courses for daycares, obstacle course for little kids, obstacle courses for a party, birthday parties, birthday party ideas, Nashville jumpers, colorful obstacle course rentals, Nashville party rentals, Murfreesboro party rentals, party rentals Nashville, party rentals Murfreesboro