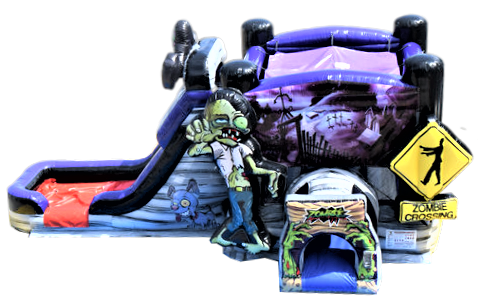 Zombie Apocalypse Bounce House
Outlets: 1
Age Group: 4 to 8 years old





$299.00

Please call to reserve this item.

This is by far the best Halloween bounce house in Nashville, Our zombie apocalypse Halloween bounce house brings the fun to any Halloween party! If you keep asking yourself what's the best Halloween party idea, this is it! There's no better way to entertain the kiddos at a Halloween party than bringing them the Halloween bounce house that truly represents one of the favorite Halloween monsters... that's right, Zombies! I mean, really... have you seen a better-looking Halloween bounce house? Of course not, we're taking the Halloween bounce houses in Nashville to the next level! Our Zombie Apocalypse Halloween bounce house features a 13 x 13 bouncing area with a basketball hoop inside, a climbing wall to the top of a slide that ends with an inflated bottom landing to ensure that safety is going to be part of the endless fun! Have you ever see a Halloween bounce house with a zombie 3d image? How about that creepy graveyard in the background of this Nashville Halloween jumper? The 3d zombie crossing sign is amazing and to put the cherry on the top... the creepy zombie hands holding the sign, inviting your guests to the best Halloween bounce house in Nashville, The Zombie Apocalypse!!!
Don't wait any longer, add the best Halloween bouncy house in Nashville to your Halloween Party ideas list, or better yet... reserve these Halloween bounce house now and impress your guests with Nashville best Halloween Bounce House Period!!!!