Nashville interactive game rentals.
  Interactive Games
Interactive game rentals are a great complement to other inflatable rentals, or as part of a group of inflatables for a church event, school event, spring festival, or fall festival. Giant game rentals are a great add-on to encourage friendly competition among your guests, very often rented with obstacle courses, inflatable slides or inflatable combos, and of course a concession machine rental.
Giant games are very popular as party game rentals for adults because there is nothing more effective to make a super fun party than a challenge between friends in an inflatable interactive game!
Our prices DO NOT include tax and delivery. Price may vary during Holiday weekends
If your Inflatable Interactive Game Rental is set up indoors, in concrete, or asphalt, or requires sandbags to secure the interactive game rentals, there will be an additional fee to your rental.
The best party game rentals for adults in Nashville are in Jumping Hearts Party Rentals inventory!
Is an inflatable interactive game rental the best option for my event?
Inflatable interactive games are designed with top quality materials and big events in mind!
If you are expecting lots and lots of guests on your event, inflatable giant games rentals are some of your best options when it becomes to interactive games for big events.
One of the best interactive game rentals in Nashville is the inflatable wrecking ball because is a high energy unit that demands lots of skills to find out who wins the challenge on the wrecking ball game
Learn about our Wrecking Ball Game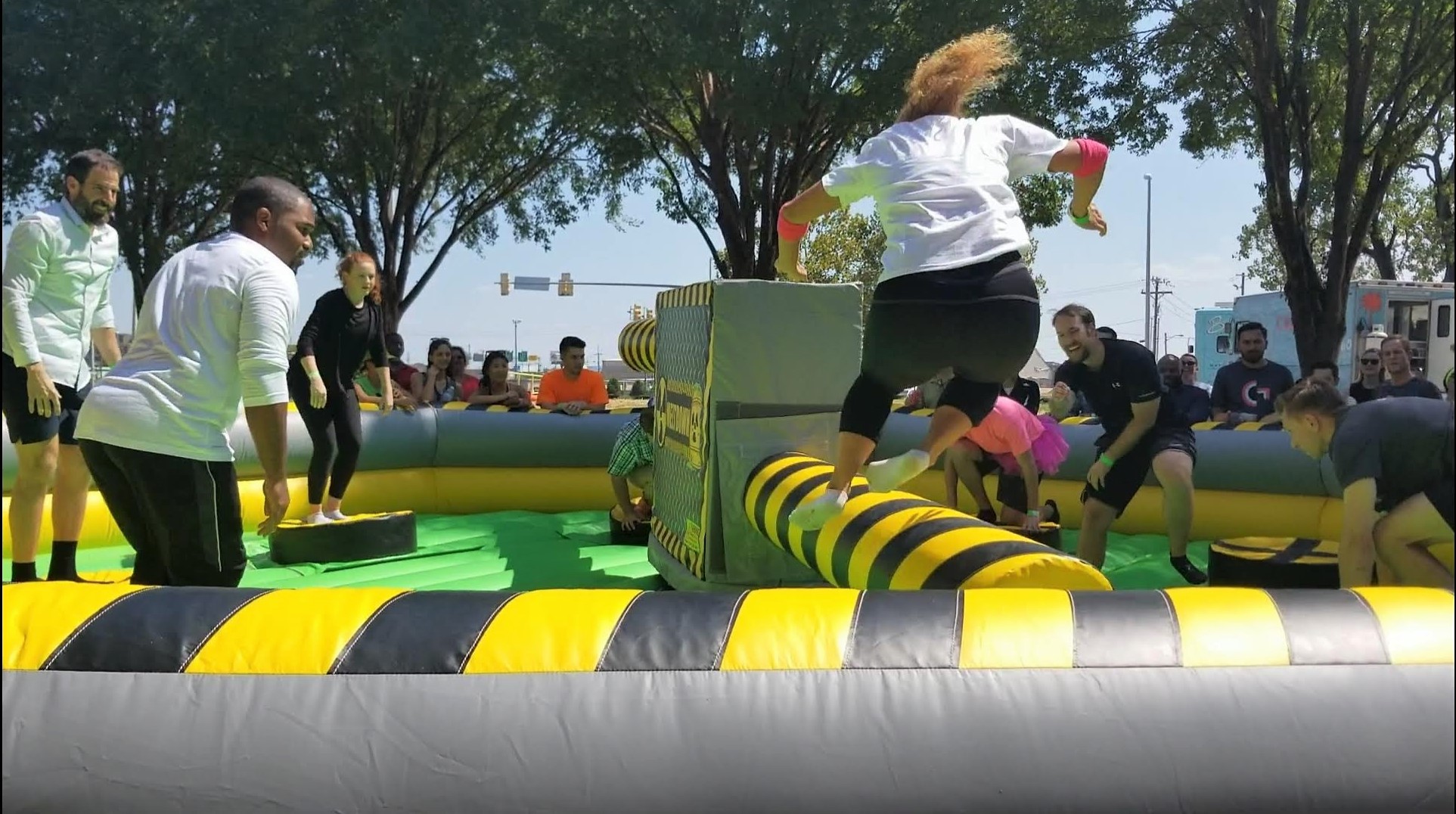 I'm considering the rent of some interactive giant games for my event, which ones do you recommend?
Our Nashville giant game rentals inventory have plenty of interactive games. Depending of the kind of event that you are planning, we can recommend you different units. But in general all of our inflatable games are great additions to events of any size. Call us or send us an email, we will be happy to assist you.
Contact Us
In your interactive game rentals, do you have any sports games or inflatable games that entertain more than two guests at the time?
Absolutely! Even though a lot of the giant game rentals and interactive games for rent in Nashville are designed to be a challenge between two players, we do have interactive games that are designed with big crowds in mind.
Some of our inflatable games for big events are the Pony Hop Derby, Human Wack a Mole, Wrecking Ball and of course the Human Foosball. Don't forget that big crowds not only needs entertainment, they also get hungry and we have plenty of fun food machine rentals in Nashville.
Fun Food Machine Rentals in Nashville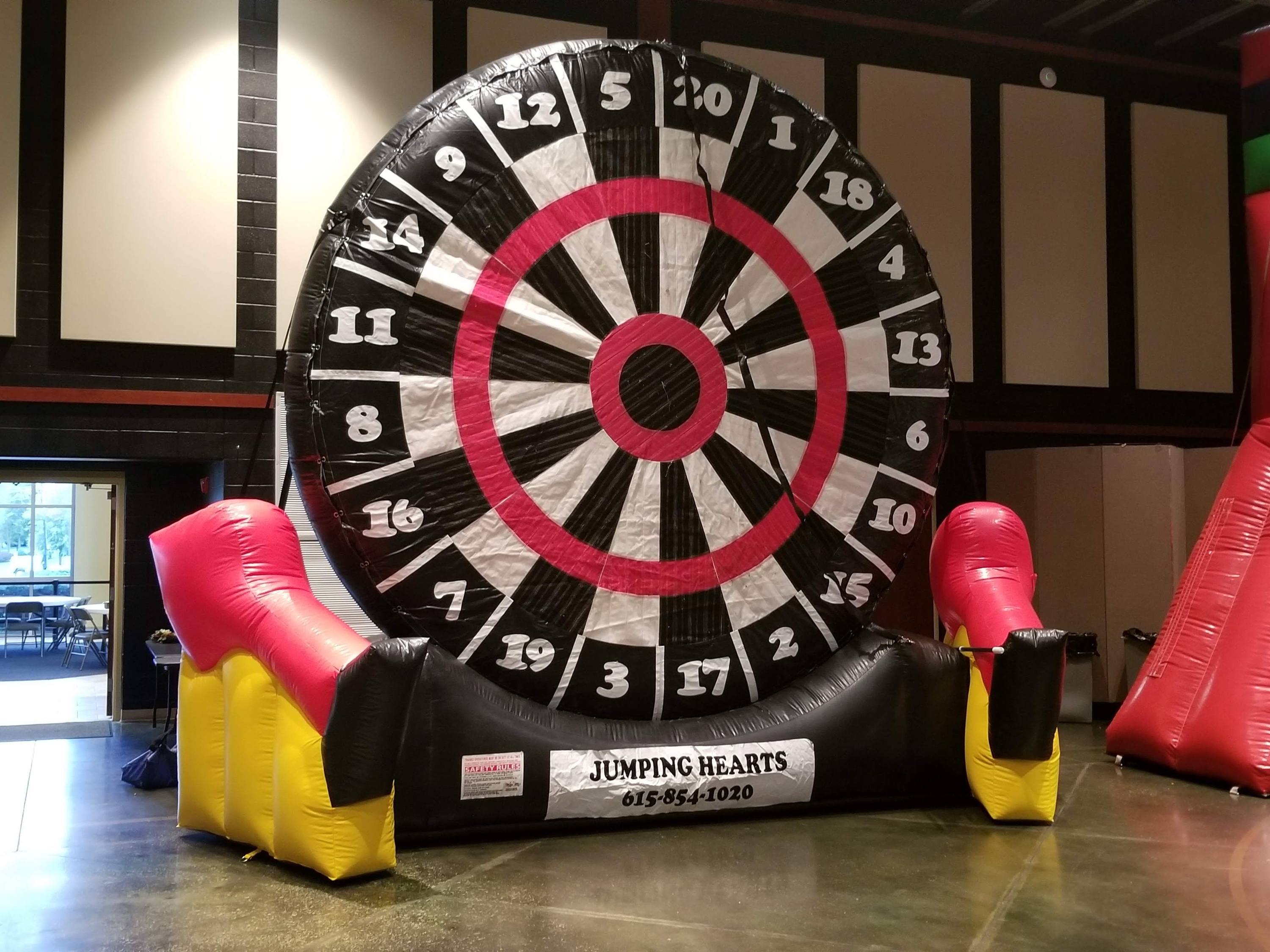 I need some interactive games for a school field day, why some people call them giant games rentals?
First of all let me tell you that Jumping Hearts Party Rentals has an awesome inflatable games inventory and do lots of school events and church events every year!
We have all kinds of inflatable games, interactive games, sports games and carnival game for rent.
Sometimes people call them giant games for rent because they are really big, I mean... look at the size of our soccer darts inflatable game right next to that door.
We also have a great inventory of carnival games for rent, like giant connect 4, giant jenga, ring toss games and PA system rentals.
Concessions and Carnival Games Rentals in Nashville
We are located in the heart of La Vergne, in an strategic location for better serving every city in between Nashville, TN. and Murfreesboro, TN.
Our phone number and address are:
(615) 854 1020
152 Mason Cir La Vergne, TN 37086
Click here for driving directions
.
What are your hours of operation?
We are open the 7 days of the week and our hours of operation are as follow:

Sunday 12:00 pm-6:00 pm
Monday 8:00 pm-6:00 pm
Tuesday 8:00 pm-6:00 pm
Wednesday 8:00 pm-6:00 pm
Thursday 8:00 pm-6:00 pm
Friday 8:00 pm-6:00 pm
Saturday 8:00 pm-6:00 pm
Jumping Hearts Party Rentals
152 Mason Cir La Vergne, TN 37086
615 854 1020
interactive games for toddlers, interactive games for toddlers, bounce house for a adults, bounce houses for adults, Nashville interactive games rentals, Murfreesboro interactive games rentals, interactive games rentals Nashville, interactive games rentals Murfreesboro, party ideas, interactive games for rent Nashville, interactive games for rent Murfreesboro, interactive games for daycares, interactive games for little kids, inflatable sport games for a party, sport games for birthday parties, birthday party ideas, Nashville jumper, colorful interactive sport games rentals, Nashville party rentals, Murfreesboro party rentals, party rentals Nashville, party rentals Murfreesboro